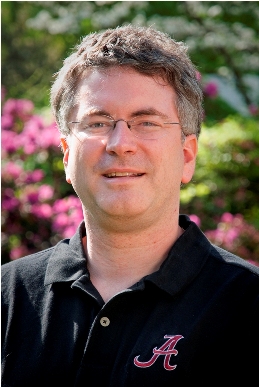 Dr. Jeff Grey will be our keynote.  He is currently at University of Alabama and is doing some great work with Code.org and the whole k-12 push.  
You may all know Jeff as he has been attending our conference for years.  He used to bring a host of grad students from UAB.  He is very excited...
The Surge in K-12 Computer Science Education:
What can you do to help?
Jeff Gray
University of Alabama
Department of Computer Science
gray@cs.ua.edu
http://gray.cs.ua.edu
Abstract
Much interest has emerged recently regarding the importance of K-12 Computer Science education, as noted by the national awareness and attention given to the efforts of Code.org and the "Hour of Code." Additionally, support from several National Science Foundation (NSF) programs (e.g., CE21 and STEM-C) has helped to create a pipeline of computing awareness that has culminated in a deep surge in momentum over the past year. A key to the future of K-12 CS Education is the new CS Principles course, which represents a joint effort by the College Board and NSF to revitalize the national importance of K-12 CS. Several universities and colleges are creating a similar course for non-majors – the benefits of introducing CS Principles at your own department will be summarized. As compared to the existing Advanced Placement (AP) CS exam, the CS Principles course focuses less on the very specific details of a particular programming language and, instead, concentrates on what many consider to be the fundamental principles of computing – the so-called "Big Ideas" of the CS Principles curriculum. Interest in the CS Principles curriculum is growing, with many high schools and universities beginning to offer an initial pilot course in order to prepare for the expected first exam in 2016-2017. In addition to CS Principles, there are several other curricula at the high school level (e.g., Exploring Computer Science), as well as middle school and K5, that have generated much interest. Specifically, new initiatives by Code.org to create a national network of teacher training workshops are addressing pipeline needs in K-5 and middle school. This talk will survey some of these efforts, share lessons learned from activities in Alabama, and suggest ways that you can become involved in your community with this new effort to raise awareness about computing!
Speaker Biography
Jeff Gray is a Professor in the Department of Computer Science at the University of Alabama. He received a Ph.D. from Vanderbilt University and BS/MS from West Virginia University, all in Computer Science. He has attended the ACM Mid-Southeast conference as both a student and faculty advisor, and gave his first ever research talk at this conference in November 1995. Jeff's research interests are in the areas of software engineering (e.g., model-driven engineering, software modularity/evolution, and mobile computing) and topics in Computer Science Education. He has recently published on these topics in IEEE Software, Communications of the ACM, and IEEE Computer. Jeff's work has been supported by Google, IBM, DARPA, US Air Force, Department of Education, and NSF (including an NSF CAREER award). In Fall 2008, he was named the Alabama Professor of the Year by the Carnegie Foundation. Since 2011, he has been a national Pilot teacher for the new CS Principles AP course and is an Editor for the College Board's teaching guide on CS Principles. He serves on the Education Advisory Council of Code.org and is an affiliate instructor for Code.org's K5 teacher training courses. More information about his work can be found at http://gray.cs.ua.edu